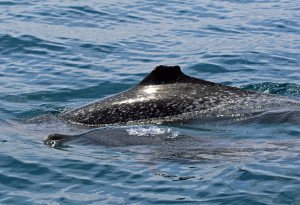 Photo ID is a very important part of our research. We are using a program called Discovery that allows us to compare ID shots and not only name dolphins and whales, but track their movements as we share our database with other marine research organizations. Unfortunately, this dolphin is very identifiable from an injury to its dorsal fin, most likely from a long line.
Happy Guests make us Happy!!
A large group of our "Homeboys" the Pantropical Spotted Dolphins, joined us on this day.